Customer Reviews
Write a Review
Ask a Question
02/11/2020
William M.
United States
Punctuality, Quality, Responsiveness, Value
Got a great price on this table. There were a few shipping "injuries." The boxes looked like they had been handled roughly. (No fault of theirs.) I told Modholic what had happened and they offered to send me replacement parts. They arrived promptly and were in perfect shape, so now I have a great new, undamaged dinette set. Accidents and mishaps happen. It's how they're handled that reveals a company's commitment to customer service. Modholic did what was right when called upon to do so. Kevin and Mike were great at making things happen. A note re: the chairs -- they are comfortable and look great, but they are molded plastic, not the fibreglass of much pricier versions. This set only two weeks old so I cannot comment on durability. For this price point, this is a great set, great value. (I actually think these chairs are more comfortable than the fibreglass as they do flex a bit while the others are rigid.)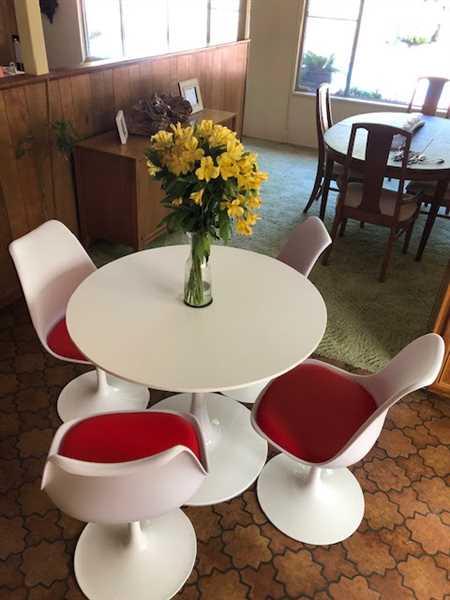 01/31/2020
Alan S.
United States
tulip style table and chairs
It can be difficult to chose something online without being able to see it in person, but this purchase turned out fine. I received my furniture very quickly after placing my order. It was easy to assemble. I'm happy with it. The chairs are comfortable and the table is just the right size for the space in my kitchen. They seemed to have this same style of furniture on the old original tv show Star Trek. But they had added a padded cushion to the top of the back rest of their chairs. If I could find that type of cushion to slip over the back I would buy that too.
01/22/2020
THOMAS.F
United States
table set
fast delivery looks awesome
11/12/2019
Anonymous
United States
Tulip table and chair set
Everything was great shipping was a little slow but Deffenty would recommend